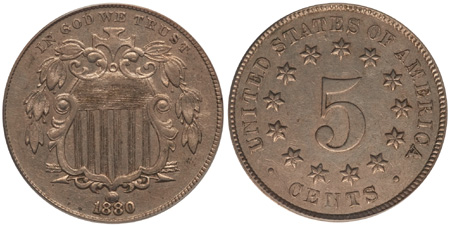 The 1880 Shield Nickel has the lowest mintage of the series for a circulation strike. There were only 16,000 pieces produced, making it the clear key date of the series.

Fewer than 100 examples of the coin have been graded by either PCGS or NGC attesting to the low survivability and rarity of the issue. The 1880 Shield Nickel is actually more available in proof strike, which had a mintage of 3,955. Although this mintage is numerically lower than the circulation strike mintage, more remain available since the proof coins were more likely retained by collectors.

The highest graded examples of the circulation strike are a few examples graded MS66. An 1880 Shield Nickel graded NGC MS 65 sold for $40,250 at an auction held in June 2010.

Other low mintage years include the 1879 with 25,900 produced and the 1881 with 68,800 produced.
taken from: http://shieldnickels.us/