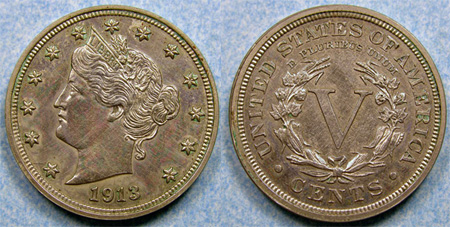 The 1913 Liberty Nickel is one of the most famous and valuable coins in American numismatics. There are only five specimens known to exist, one of which sold for $3,737,500 at auction in January 2010.

Part of the allure is that it is an issue which is not supposed to exist. The Liberty Nickel series officially concluded in December 1912 and was replaced in 1913 by the new Buffalo Nickels. Thus, all 1913-dated nickels were supposed to carry the new design. In 1919, Samuel Brown placed an advertisement offering to pay $500 for any 1913 Liberty Nickel, and the following year publicly displayed such a coin. It is believed that he illegally struck or arranged to strike the coins and placed the ad as a means of legitimizing the coins.

There are believed to have been five examples of the 1913 Liberty Nickel originally struck. These remained together for a time, until the set was split up and sold to five different owners in the early 1940's.

Today, one of the coins (pictured above) resides within the Smithsonian Institution's collection and one resides with the ANA's collection. The Eliasberg specimen, which is the finest known, was sold for a rumored price of $5 million to an anonymous collector. The Olsen specimen most recently sold in January 2010 for $3,737,500. The Walton specimen was lost for several decades until it was rediscovered in 1993 within the hands of the Walton family. They had believed the coin to be a fake, but a panel of experts at the 2003 ANA convention confirmed it as genuine.
taken from: http://libertynickel.net/
Only 5 Liberty Head V Nickels were minted in 1913 and production was unauthorized by the mint. The 1913 Liberty Head nickels are some of the most valuable and rarest US coins in existence with each one worth many millions of dollars. A man named Samuel Brown worked at the mint in 1913 and also introduced all five coins at the American Numismatic Association in 1920. He claimed that he put an ad in "The Numismatist" offering to buy them for $500 each and was able to successfully acquire them as a result. Although it is widely suspected that Samuel Brown was the one who actually produced these 5 proof liberty nickels at the US Mint without authorization and took the coins for himself.Depicted in the picture below is a collection of all 5 1913 liberty head nickels in one picture.From left to right: Eliasberg specimen - Olsen specimen - Norweb specimen - Walton specimen - McDermott specimen.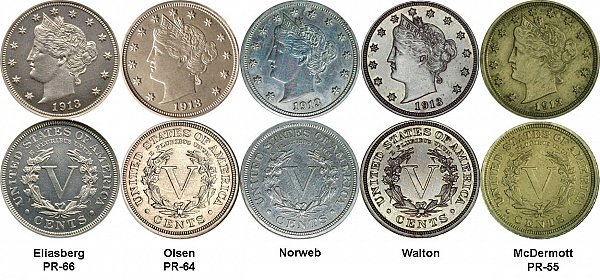 taken from: http://usacoinbook.com